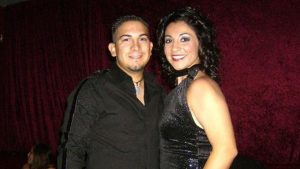 Steve has an extensive music and dance background. At the age of 9 he began his dance life with
the form of hip-hop. He attended classes at the world famous Millennium Dance Complex in North
Hollywood, where he was instructed by world renowned instructors. As a hip-hop dancer, Steve did
various performances around the Los Angeles area. At the age of 19 he was turned on to a different
form of dance while attending a world class competition. After witnessing a salsa competition, Steve
decided to focus his time and energy to mastering the art of salsa dancing. In his learning salsa,
Steve was given the opportunity to teach his very own salsa class after only 2 months of dancing.Since his
first major competition in 2006 at the world famous Mayan night club, he is considered to be amongst the
favorites in any competition he enters.
Cynthia has an extensive background in cheerleading and gymnastics as both a performer and instructor.
Her dance training mainly came from her cheerleading background, where she cheered with a nationally
ranked college cheerleading squad, and later, she joined the Universal Cheerleader's Association (the 2nd
highest ranked cheerleading organizations for elite level cheerleading in the world). There she performed,
instructed, and judged national cheerleading competitions.
In 2006 Cynthia & Steve were semi-finalists at the world famous Mayan salsa competition and finalists at the
Century Club salsa competition.  Making a natural transition, as the popularity of Bachata grew, Steve &
Cynthia joined the Danzone family back in 2010 as our Bachata instructors.  Quickly becoming a Danzone
favorite, the Bachata class accommodates the beginner as well as the experienced dancer.
You'll love this dynamic duo!