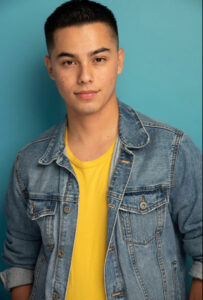 Eduardo "eddy" Alonso began training under his aunt Amber Alonso, fellow professional dancer, company owner and Zumba instructor at the age of 13. Learning Hip-Hop basics such as: choreography, popping,  waving ,reggaetón, and free styling. As years passed Eddy's aunt introduced her nephew to Walter Moran, fellow instructor at Danzone and Steven Lopez founders of 818Empire dance company.
In 818Empire Eddy would grow and learn to dance in a larger scale and perform at bigger venues such as World of Dance, kids Carnival, Friday Night Raw, and children's hospitals. Through 818Empire Eddy began training in legendary Dance studios such as Debbie Reynolds as well as IDA, millennium dance complex, movement lifestyle and evolution dance studios. In these studios Eddy would make friends and connections with working professional dancers and teachers.
For example G. Madison one of Mariah Carey's back up dancers, Kennis Marquis choreographer and dancer of Missy Elliot,Zayn,Snoop Dog, Lady Gaga and more! Cultura choreographer and dancer of many reggaetón artists: Wisin y yandel, Maluma. Antoine Troupe: prince, Chris Brown, Kehlani. Meeting many Back up dancers and choreographers allowed Eddy to gain much experience and a great sense of professionalism. His training would lead him to train by himself and gain work as a professional dancer.
He'd move onto working with professional dance companies and choreographers like MovinOnUp, JohnyD, Amber Alonso, G.Madison ,Walter Moran, OnQEntertainment, and eventually audition and get signed under MTA (Movement Talent Agency). From Back up dancing, music video's, live performances, and auditioning for globally known artists against hundreds of dancers.
Eddy's newest endeavor is teaching.From starting with SkyHigh earlier this year for in school teaching sessions, he now seeks to expand again teaching at DanZone creating his own choreography and continuing the teachings and instilling confidence and drive to his students the way he was taught to grow from his shell and have the drive to continue on wether a situation is difficult or easy. No matter what obstacles lie ahead and what situations life throws at you.